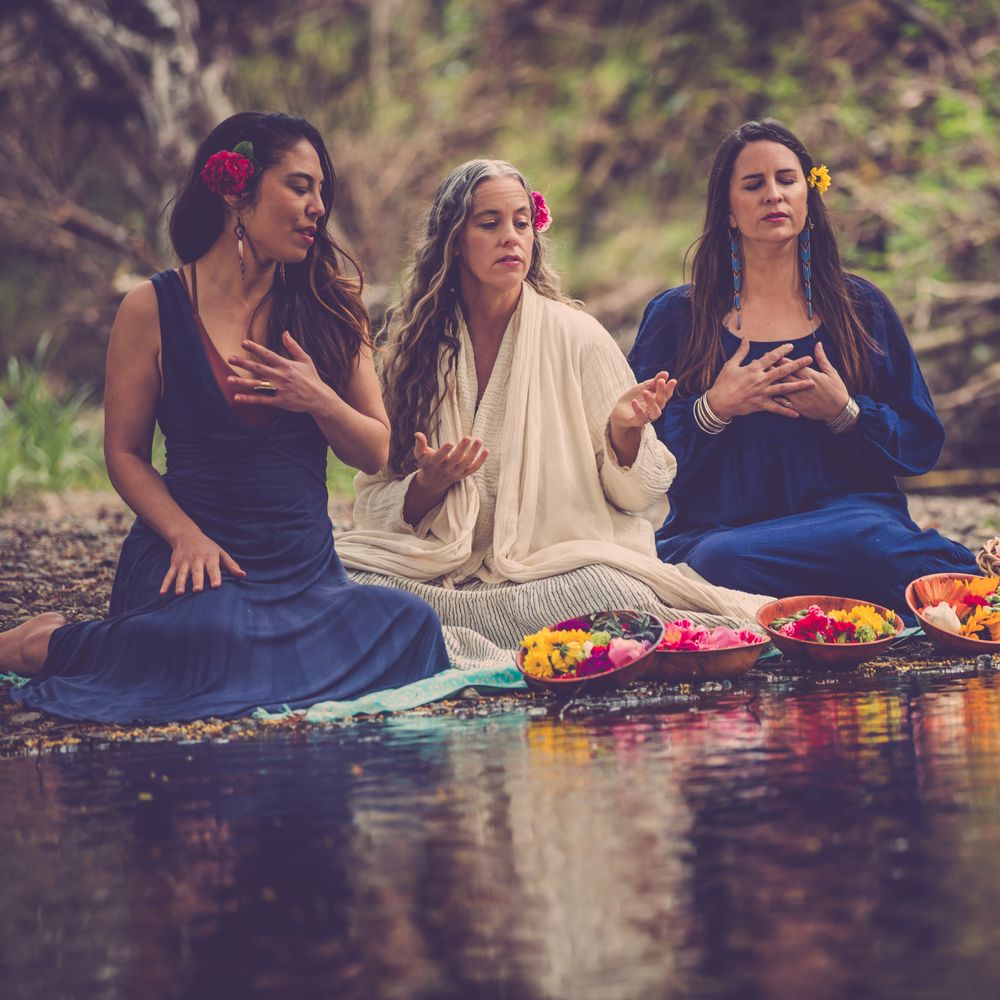 Copper Wimmin
Three part harmony to Soothe all souls
Conjuring high potency feminine power Copper Wimmin invite you into a transformational experience.  Like the three fates weaving us into existence, Copper Wimmin's intricate vocal tapestries remind us of the time when all was sacred. You will be invited to breath, pray, honor yourself, and join your voice in the celestial chorus. 
Alyx, Kiranjot, and Sophia have been singing together since they were 12 years old. They were finalists in the Lilith Fair Talent search, and silver medalists in the A cappella Harmony sweepstakes, where they won first place for best original song and arrangement. They were featured on Amy Goodmans NPR program Democracy Now, and were the recipients of the 2006 Isadora Duncan Dance award for best musical score. In 2006, their song "Bleeding Rivers" was featured on the Showtime television series "The L Word." 
Unlike many other female artists before them who struggled to find a female musical lineage in a male dominated industry; Copper Wimmin grew up listening almost exclusively to women's music. Influences such as Tracy Chapman, Sweet Honey in the Rock, Zap Mama, Ani DiFranco and Joan Baez informed their musical sensibility and gave them a vision of what was possible with the human voice.  
In 2006 Copper Wimmin disbanded to pursue individual projects and expand their musical horizons. Kiranjot spent five years studying Indian classical music in Amritsar, India, Sophia became a yoga teacher and released a solo album called Ready Now, Alyx deepened her songwriting process and focused on her family. 
In 2020 the stars aligned and the three wimmin felt moved to reconnect musically. 
After a break of almost 14 years Copper Wimmin released their new singles "Heart Full of Flowers" in 2022 their lullaby "Zeba" in 2023.  With so much upheaval and conflict in the world they felt called to bring their voices together once again in service to womens's empowerment, healing, and transformation.
Press photos
Press / Reviews
" Most unusual were the Copper Wimmin…they used their voices as bells and percussion instruments."
— San Francisco Chronicle
"Think Ani Meets the Roches."
— The Guardian
"Their sound conjures images of mythic sirens and mighty amazons. Defiant, resiliant diatribes fold deftly into solemn, seductive chants for peace and peace of mind."
— The Press Democrat
"The Audience was absolutely glued to Copper Wimmin"
— Sonoma County Women's Voices